Textile and garment enterprises must pay more attention to chemical management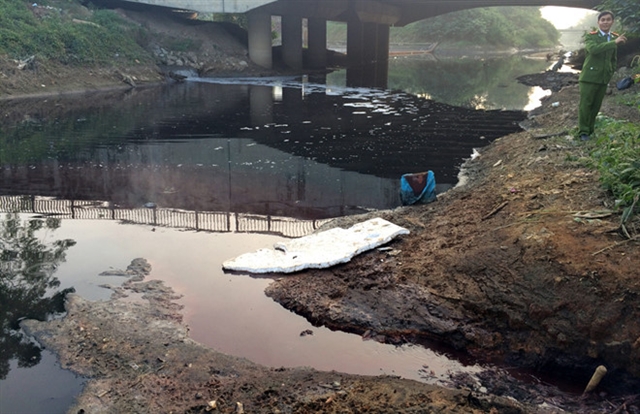 HÀ NỘI — Textile and garment enterprises consume a large amount of chemicals for their production activities. However, most have paid little attention to chemical management, leading to passive reactions when any incident occurs, the Ministry of Natural Resources and Environment has said.
The Việt Nam Textile and Garment Association estimates that as of 2017, the number of Vietnamese textile and garment enterprises was about 7,000, with 2.7 million employees. Of which, 177 enterprises are specialised in dyeing and printing.
The volume of chemicals consumed in the textile and garment industry reaches nine million tons per year. The chemicals include inorganic and organic substances such as acids, alkalis, solvents and various salts.
However, the management of chemicals of enterprises has remained weak.
Phan Quỳnh Chi, deputy general secretary of the Việt Nam Textile and Garment Association, said the majority of textile and garment enterprises were small and medium-sized, so they only focused on production activities and remained lacklustre in chemical management.
Most were only interested in this critical task when a chemical-related incident happened, she said.
Deputy director of the Institute of Environmental Sciences Nguyễn Thị Phương Mai said textile and garment are considered the second largest polluting industry, especially dyeing.
The legal documents stipulated that textile and dyeing enterprises must be equipped with functional wastewater treatment systems, so wastewater must meet all the technical criteria set in legal regulations before being discharged into the environment.
However, Mai said, very few companies have achieved that as most are small- and-medium-sized ones while the wastewater treatment systems must be modern and of large capacity to treat wastewater properly.
Consequently, dyeing enterprises have been found to violate environmental regulations. Many have even violated regulations repeatedly and in the same manner.
PangRim Neotex Company, in northern Phú Thọ Province, has been found discharging untreated wastewater into the Hồng (Red) River six times since 2010.
Discharged wastewater contained excessive levels of pollutants such as ammonium nitrate, coliform and biochemical oxygen, which were between 6.9 and 24.7 times higher than permitted levels.
The company was fined more than VNĐ456 million (US$19,608) and was demanded to install automatic wastewater monitoring systems and cameras to send data to the provincial Department of Natural Resources and Environment.
However, the story did not end there. In early 2018, local people of Bến Gót Ward complained about the discharge of wastewater by the company and asked it to relocate.
Mei Sheng Textiles Việt Nam Co, Ltd in the southern coastal province of Bà Rịa-Vũng Tàu has been forced to halt operations seven times for illegally discharging untreated wastewater into the Đá Đen River. The river was the main water supply for 90 per cent of local residents.
The company was found to illegally use about 2,760cu.m of underground water and illegally build a dyeing factory with a capacity of 1,100 tonnes per year.
In 2017 Pacific Crystal Textiles Company in northern Hải Dương Province was asked to suspend operations for three months and fined VNĐ340 million ($14,620) by the central environment agency after a fine of VNĐ672 million ($28,896)by the local authorities.
Production model changed
The Ministry of Natural Resources and Environment said the textile and garment industry needed to change its growth model in a sustainable way.
The use of recycled materials and safer chemicals for the production and the building of a response plan to chemical incidents must be a priority, it said.
The ministry has worked with localities to build policies on preventing and controlling pollution such as making zones for the construction and operation of dyeing factories, monitoring wastewater discharged from these factories, inspecting the transport and storage of chemicals, and updating the wastewater criteria.
The ministry has recently released a document on guidelines for chemical management for textile and garment enterprises in Việt Nam. It will help building and evaluating the prevention and response plan of chemical incidents, developing safer products, and enhancing the use of renewable materials, it said. — VNS